On average, consumers see up to 10,000 advertisements per day. This overabundance of messaging coupled with all the options out there for tire distributors can make it difficult to get noticed. Sometimes, the only way to gain attention for your brand is by boldly disrupting all the noise.
Before planning your next tire marketing campaign, check out how these 4 companies stood out from the crowd.
Apollo Tyres - The Road is a Friend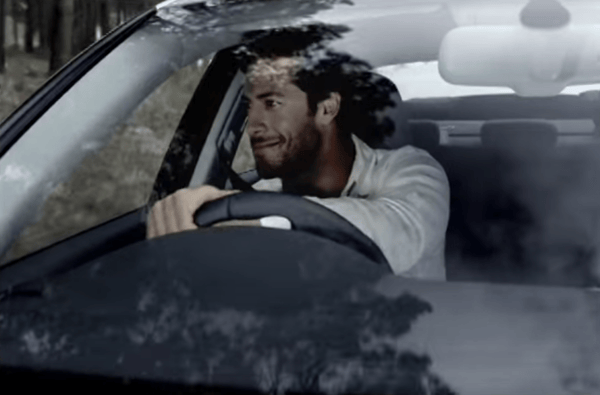 Apollo Tyres is the world's seventh-largest tire manufacturer. Based out of India, the company has markets in more than 100 different countries. Since 1972, the company has designed tires for commercial, passenger, and offroad vehicles
This Apollo Tyres ad shows an attractive man driving his sedan through forests, mountains, dirt roads, and other types of terrain. All the while, a voice explains the ups and downs of being in love.
Why It Works
The traditional approach to tire advertisements is to treat the road like an adversary that your tires are capable of overcoming. According to the agency behind this tire marketing campaign, the goal was to differentiate Apollo's approach by describing the road as a partner in the adventure as we see here;
"Our new technology tires allow you to make the road a friend, a companion, that takes you on many great journeys."
Key Takeaways
It's important to identify with your audience. This ad appeals to the adventurous spirit in all of us by breaking the car vs. terrain model. Apollo's ad works because they reconceptualized how we view tough terrain and makes it more accessible and fun when you have the right set of tires.
BFGoodrich - Playground Earth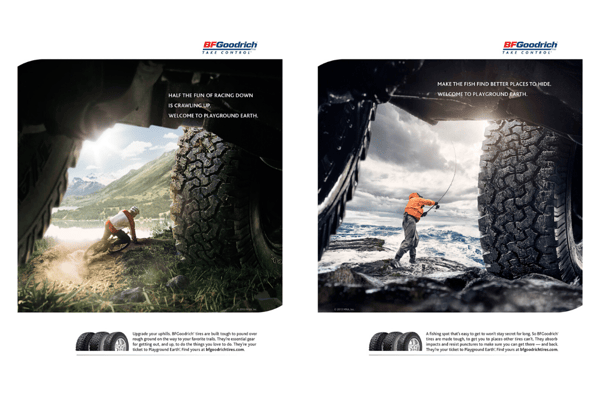 BFGoodrich is an American tire manufacturer with a history that stretches all the way back to 1870. Since then, the company has developed a reputation for designing tires that perform just as well on the highway as they do in races like the Baja California Competitions and Paris–Dakar Rally.
In this tire marketing campaign, BFGoodrich showed people enjoying the great outdoors – from fishing off of rocks to mountain biking down a steep incline – while posed next to their line of KO2 tires, modified to look two-stories tall.
Why It Works
First, the imagery is eye-catching: jagged shores, mud-drenched forests, and imposing cliffs. The tires are also made to be massive standing next to the people in each photo. This kind of visual juxtaposition is an effective photography technique for grabbing attention.
Secondly, BFGoodrich's marketing campaign promises effortless access to "playground earth." The company wanted to communicate that, "the KO2 is designed as a tire that will pose no boundaries for drivers taking on a new world of adventures."
Key Takeaway
Using contrast to your visuals in your tire marketing campaigns can make your images pop. Then, once you have your viewer's attention, quickly communicate what your tires will do for them (e.g. provide access to the entire world).
Michelin - Animated Series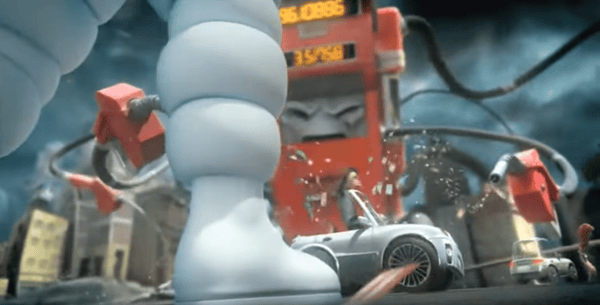 Michelin is the second-largest tire manufacturer in the world. Over the last 130+ years, Michelin has been responsible for some of the industry's most important innovations, including removable and radial tires. It also known all over the globe for its mascot, the Michelin Man.
Michelin's animated tire marketing strategy included two commercials:
"Evil Gas Pump"- "The right tire changes everything" when the Michelin Man helps a driver save at the gas pump by switching to more fuel-efficient tires.
"Saddest Road."- The Michelin Man outfits a vehicle with tires that stop 5% shorter, so winter conditions are less dangerous.
Why It Works
A giant made out of tires taking on an evil gas pump come-to-life, or saving cute wilderness creatures from a car careening over black ice, definitely made these ads stand out. However, it turns out that the choice to use animation may have played an integral role in making them more memorable too.
Research into animated ads shows that this approach can increase customer recall, so when it comes time to buy, they're more likely to remember a product advertised by a cartoon.
Key Takeaway
By highlighting what your tires can do in a way that would otherwise be impossible — like with a superhero made of tires — can no doubt grab the attention of your audience. Which creates the opportunity to include pertinent information about what makes your tire superior.
Toyo Tires - Good Taste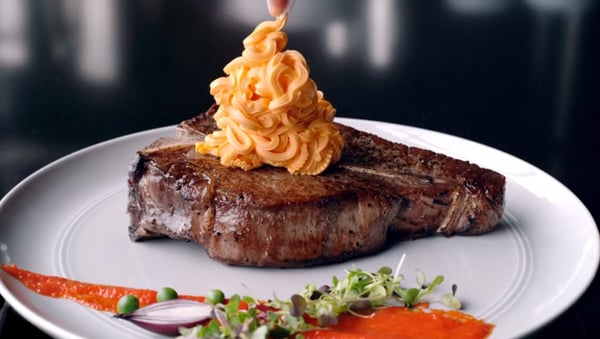 Though Toyo Tires was founded in Japan, it has since become an extremely popular brand in North America. Their tires are favored by drivers of high-performance vehicles and commercial trucks. As the company likes to say, "Whatever drives you, we've got the tires to make it even better."
In this creative tire marketing campaign titled "Good Taste", they start off by saying "This is a 24 oz, dry-aged porterhouse steak." Using a steak as a metaphor for your car, the narrator says, "When you don't put Toro Tires on your car, you're basically doing this", while showing an exquisite cut of meat being topped with processed cheese from an aerosol can for a full seven seconds.
The commercial ends with this bold statement: "Your car deserves better."
Why It Works
This is another good example of juxtaposition. The expensive-looking steak and the cheap processed cheese are in stark contrast to each other.
In this specific case, the juxtaposition is funny; studies on humorous ads show that they are effective at capturing the viewer's attention and increasing their positive perception of the brand.
Key Takeaway
Don't be afraid to use humor to catch the attention of your audience. As long as it doesn't take away from the positioning of your tires, it can help your company stand out and make a positive impression with your market.
Complement Your Tire Marketing Campaigns with BayIQ
You can implement an effective tire marketing strategy without overhauling your budget or finding more hours in the week with the help of BayIQ.
BayIQ offers a suite of marketing tools that were specifically designed to help companies in the auto repair industry retain customers, save time, and increase revenue. With automated social media marketing, loyalty programs, auto reminders, promotional text messages, and customer reviews, BayIQ keeps all your marketing efforts in one place.
Creating a cohesive marketing plan across all platforms has never been easier.